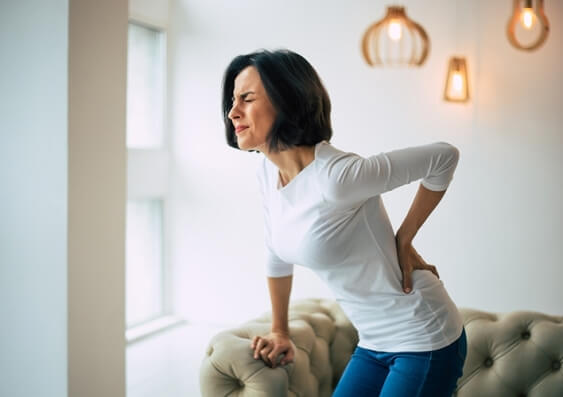 What Are Red Flags for Back Pain?
There are various red flags for back pain. These warnings or symptoms may indicate that your healthcare has an underlying medical condition. These red flags can help you get the right treatment and diagnosis.
These red flags may indicate a serious condition or may not be related to back pain. Only a healthcare provider can tell the difference. It is important to report any symptoms to your healthcare provider.
Red Flag Signs and Symptoms for Back Pain
Age is defined as being younger than 18 years old or older than 50 years.

Chills or fever

Recent surgery or illness

history of cancer

Unexplained weight loss

Night pain or restless nights
You may see red flags that are not consistent with the underlying condition. For example, a spinal infection could be triggered by fever, chills, and recent illness. Unexpected weight loss and pain at night or when you are asleep are all signs of cancer. Cauda Equina Syndrome is characterized by incontinence, weakness or numbness in the legs, and feeling lost in the inner thighs and buttocks.
Age
Acute back pain can be a sign of a stress fracture in a vertebra. A stress fracture in the vertebrae may be the cause of back pain for those younger than 18. This type of injury is common in athletes, including weightlifters and gymnasts.
Fever, Chills, Recent Illness, or Surgery
A fever could indicate an infection such as meningitis or infection in the epidural space surrounding your spinal cord. Common signs of spinal infection include fever, chills, and a stiff neck.
A spinal epidural abscess is an infection that occurs between the outer layer of the spinal cord and nerve roots.
People who have had back surgery, who have suffered from boils or infections in their bloodstreams, or who have recently had spinal epidural abscesses, may be at greater risk. The use of intravenous drugs can also increase the risk of spinal epidural infections. You may be more at risk if you use IV drugs, are a steroid user, have had a sterile transplant, and/or are a patient who has used IV drugs.
For example, a recent lumbar puncture or epidural injection for back pain can increase the risk of infection.
It is important to receive a diagnosis quickly for a spinal injury.
The treatment focuses on relieving the pain, eliminating the infection, and maintaining your nerve system's functioning.
Trauma
A fractured spine can result from major trauma such as a serious car accident, a fall, or a sports injury. Additionally, a vertebral fracture can injure the surrounding nerves and spinal cord.
Minor trauma to the spine can cause damage, especially if it is more severe than minor.
An epidural hemorrhage can occur if you take anticoagulant medication. This could lead to back pain, weakness, or tingling sensations in your arms and legs.
History of Cancer
Back pain could indicate cancer recurrence, metastasis, or spread to other areas of the body if you have or are currently battling it.
Undiagnosed weight loss or back pain that persists for several months may indicate cancer.
Certain types of cancers can put pressure on the spine. Lung, breast, and prostate cancers can cause spinal cord compression. Epidural spinal compression can also be a possibility in patients with metastatic bone disease.
Night Pain or Restless Sleeping Pain
Back pain can occur at night or while you are asleep. This could be a sign that you have a serious condition like cancer or infection.
This is especially true if you have a night or resting back problems along with other symptoms. Pain at night, and weight loss, particularly in adolescents, can be a sign of cancer. You should consult your healthcare provider.
Schedule a Consultation
If you are feeling any of these red flags for back pain, please contact Florida Medical Pain Management and we will help you determine what is causing your pain and how to treat it best.