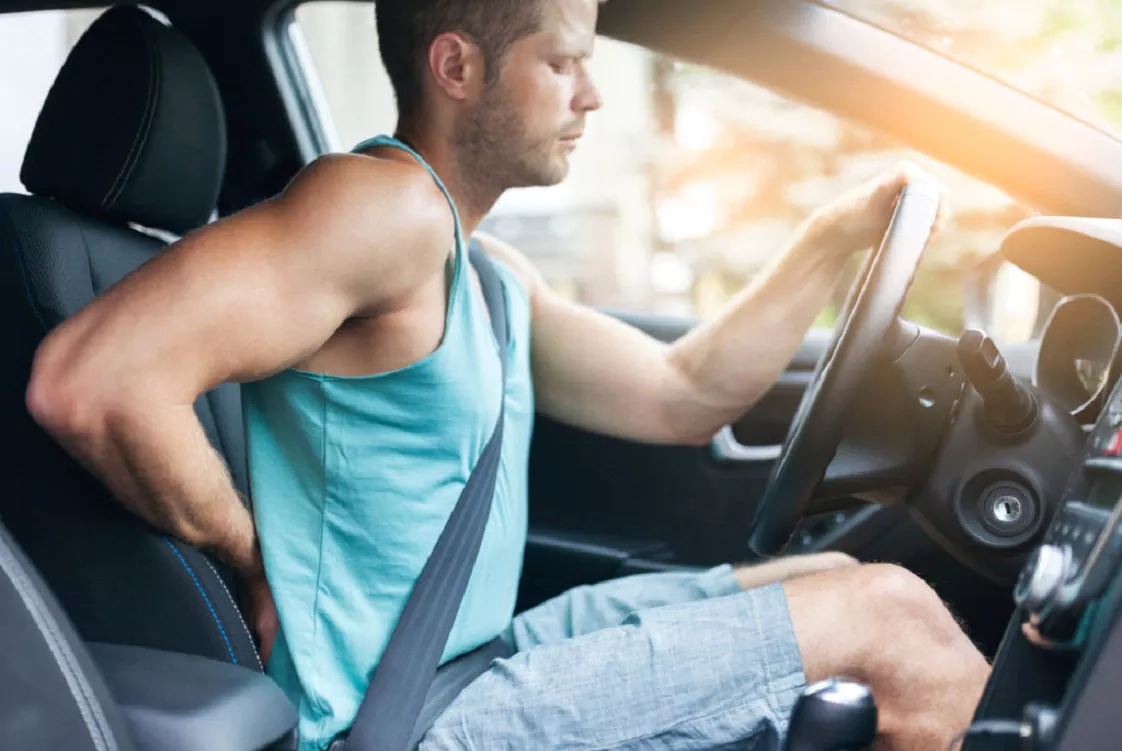 Common Back Injuries After Car Accident
The spine and human back are made up of complex bones, muscles, and joints. The spinal cord is one of the most fragile and vulnerable parts of the human body. Any one of these components could be injured and cause severe back pain, weakness, or disability. Car accidents can cause back injuries that are all too common. The back absorbs a lot of the force and pressure of a high-impact collision. For any back pain or symptoms after a car accident, you should seek medical attention. Acute back injuries that aren't treated promptly can lead to permanent pain. Continue reading to find out more about common back injuries after car accident and what signs and symptoms you should look for.
SIGNS AND SYMPTOMS
After a car accident, any type of discomfort or back pain should be treated immediately. Some injuries may not manifest until hours or days after the accident. Do not ignore minor back pain and assume it will go away on its own. Seek out a physician for a complete evaluation and diagnosis.
These symptoms may be caused by back injuries:
Pain

The legs and buttocks feel pain

Stiffness

Tingling or numbness in the arms, legs, feet, or hands

Standing or walking difficulties

Muscle spasms
5 BACK INJURIES CAUSED BY CAR CRASHES
A variety of back injuries can be caused by car accidents, including those in the cervical, spine, and lumbar regions. These are the most common.
Whiplash
A whiplash injury is one of the most commonly caused by a car crash. It occurs when the head and neck jerk suddenly backward and forward, straining and tearing the muscles, ligaments, and tendons in the neck. Whiplash may cause back pain, while pain and symptoms premium affect the cervical spine. Whiplash is very commonly misdiagnosed, or not treated as a serious condition. This can increase the risk of long-term complications in the neck and back. These injuries can cause significant pain, stiffness, tenderness, and muscle spasms, even if you're recovering from an accident. 
Herniated Disc
The body absorbs a large amount of force and impact during a car accident. Extreme force may cause supportive discs to slip out of place, crack, or rupture in the spine. A herniated disc, also called a ruptured disc, is usually painless but it can cause significant pain in the spine if it compresses nerves in the lumbar and cervical spines. Nerve compression in the lumbar spine causes low-back pain, sciatica weakness, numbness, or tingling down your leg and foot. Nerve compression in the cervical spine causes neck and shoulder pain, numbness, and weakness or tingling down your arm and hand.
Fractures
A car crash may cause vertebrae to fracture. A compression fracture is the most frequent type of spinal damage insulted by accidents. compression fractures are formed when significant stress or pressure on the spine causes small fissures or cracks in the bone. Trauma may cause more important fractures to the spinal cord and surrounding nerves. These injuries may require immediate medical attention.
Spinal Cord Injuries
A spinal cord injury is the most dangerous type of injury you could sustain from a car accident. Your spinal cord can be damaged by extreme pressure, lacer, or bruised during a collision. Spinal cord damage can result in permanent paralysis or nerve damage. you will need immediate medical attention for this type of injury. If you believe your spinal cord has been injured in a crash, try not to move and let ems transfer you safely to the hospital.
What's Next?
Even if you do not feel pain, it is important to see a doctor immediately after a car accident. Whiplash and soft tissue injuries, for example, may not show symptoms until days or hours after the accident. To avoid chronic pain in the future, it is important to seek medical attention immediately if you have back pain.
After a car accident, your primary care physician (PCP), is not the best option. Your PCP may be an excellent physician for internal conditions, but he or she likely doesn't have enough experience and training to diagnose, treat, and manage common car accident injuries. Seek out medical attention from a specialist who specializes in treating the spine, joint, and musculoskeletal problems.
Your doctor will perform a medical check-up.
Ask about your accident and how it happened, where you feel pain, and when you started feeling them.

To check for tenderness, pain, swelling, range of motion, muscle strength, and mobility, perform a physical exam

To visualize internal swelling, bleeding, fractures, and ruptured discs, order imaging exams such as an X-ray or MRI.
After a thorough examination and running tests, your doctor will diagnose you and devise a treatment plan.
TREATMENT AND RECOVERY
Many back injuries require many treatment options and long recovery times. Due to the physical limitations and emotional trauma caused by the accident, you may feel anger, frustration, anxiety, or depression. To keep you focused as you work towards recovery, you will need a strong support network. You may need to have someone to help you get to appointments and with your daily care. It all depends on how severe your injury is.
Back injuries can be difficult to heal. Your doctor will guide you with a detailed treatment plan.
LONG-TERM COMPLICATIONS
Many people suffer from back injuries that can cause serious complications in the long term. You may have to miss work or modify your daily activities after a car accident. You may require assistance driving, running errands, and performing personal care tasks if you are experiencing severe pain in your legs and feet. Your life can be affected by the care and treatment of back injuries.
Acute back injuries can lead to disability and chronic back pain. Chronic pain can make it difficult to do the things you love, and it can also affect your ability to focus and perform at work. Due to the difficulty of back pain, you may feel uninterested or self-conscious about socializing with others.
Traumatic events like a car accident can cause injuries and damage that may lead to other conditions such as the back, joint, and spine problems.
Degenerative disc disease (DDD).

Spinal Osteoarthritis

Spinal Stenosis

Facet Joint Syndrome
FLORIDA MEDICAL PAIN MANAGEMENT TREATS BACK INJURIES AFTER CAR ACCIDENTS
Florida Medical Pain Management has a team made up of board-certified physicians who have the experience, training, and expertise to treat whiplash, spine damage, fractures, and soft tissue injuries. Our treatment options include orthopedic care, pain management, and minimally invasive spine surgeries. Experiencing back injuries after car accident? Let Florida Medical Pain Management help you!
Don't delay if you have been involved in a car accident. To schedule an appointment, call us or complete an online form.