Neck Pain
If you've ever slept the wrong way and awakened with a stiff neck and severe pain, you know how easy it is to suffer a neck problem. No matter what caused your neck pain, Florida Medical Pain Management in St. Petersburg, New Port Richey, and Spring Hill, Florida, can help. The team has years of experience in alternative and conventional treatments, allowing them to fully customize your care for the best results. If you need relief from neck discomfort, call the office closest to you or schedule an appointment online.
Neck Pain Q & A
What causes neck pain?
Your neck consists of seven small vertebrae that support the weight of your head, a combination that makes it easy to stretch or damage the soft tissues supporting your cervical (neck) spine.
Neck pain affects about 15% of Americans at least once a year. Causes include:
Whiplash
Degenerative disc disease
Vertebral fractures
Fibromyalgia
Arthritis
Herniated discs
Muscle strains
Stenosis
Abnormalities in the bone or joints
Trauma
Poor posture
Degenerative diseases
Beyond sprains and strains, this pain is often caused by an acute injury or repetitive movements that stress the same muscles.
See your doctor at Florida Medical Pain Management for an evaluation to diagnose the source of your pain.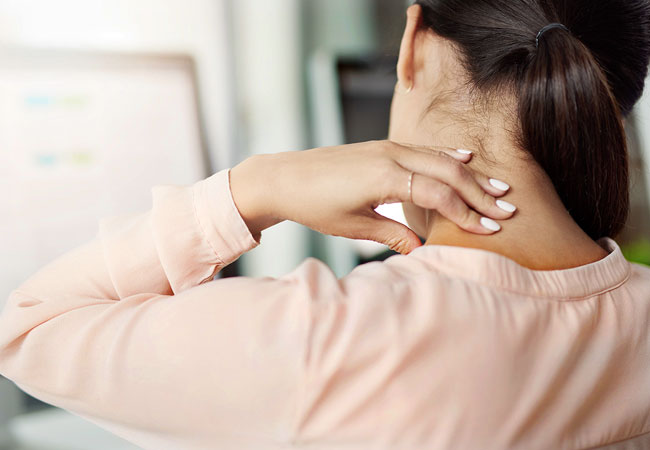 What other symptoms can accompany my neck pain?
It's common for neck pain to limit the movement of your head, but you can develop other unexpected symptoms. Structural problems in your neck can lead to a severe headache.
Compressed nerves cause classic symptoms like tingling, numbness, and pain that follow the nerve down your arm. In severe cases, pinched nerves cause muscle weakness and affect the movement of your hand.
How is this pain diagnosed and treated?
Florida Medical Pain Management practices a holistic approach that considers all the variables in your life that contribute to your pain.
For a diagnosis, your doctor might use X-rays, magnetic resonance imaging (MRI), myelography/CT scanning, electromyography (EMG), or a nerve conduction velocity (NCV) study.
Once diagnosed, the first line of treatment for neck pain will include taking anti-inflammatory medication and/or applying ice or moist heat. Your doctor can prescribe more aggressive approaches if your pain continues to bother you.
Other treatments include:
Cervical epidural injections
Spinal cord stimulation
Selective cervical epidural and root blocks
Nerve blocks
Cervical facet injections and medial branch blocks
Kyphoplasty for compression fractures
Discography
The team at Florida Medical Pain Management offers manual therapies that release tight neck muscles, improve range of motion, and relieve your pain. They also develop structured exercises to support your recovery and restore optimal function following a neck injury.
You can be confident that your specialist takes the time to diagnose and treat you to help you feel better.
If you need relief from pain, call Florida Medical Pain Management, or schedule an appointment online.