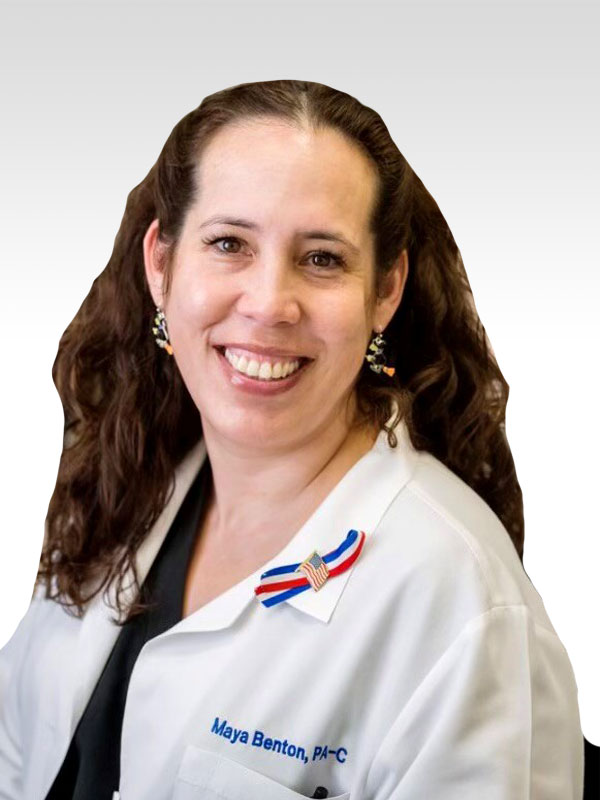 Maya Benton, PA-C, MPAS
Maya Benton has been a certified Physician Assistant for over 17 years with over 25 years of experience in the medical field. She received her undergraduate degree with a Bachelor of Science in Medical Technology, with honors, from the University of San Agustin. She received her Masters in Physician Assistant Studies from Chatham University, in Pittsburgh, PA.
Maya is a veteran of the US Army where she proudly served our country for over 3 years. She spent the majority of her active duty stationed at Landstuhl Regional Medical Center in Landstuhl, Germany which is the largest American military hospital outside the continental United States. She received numerous commendations and medals for her service and was honorably discharged as a sergeant.
Maya began her career as a PA in neurosurgery first-assisting in numerous brain, cervical and lumbar surgeries for four and a half years. After working in the operating room and hospital, she then moved into minimally invasive spinal surgery where she specialized in post-operative management and pain control for over 5 years. She then specialized in interventional pain management and has been focused in this field for over seven years. Maya continues to advance her skills as an interventional pain practitioner with continued medical education and advanced workshops.
When Maya is not working she enjoys spending time with her husband and her cat at home. She loves to travel, do wine tastings from all over the world, walking and biking.